BK Greenhouses is finding a way to spread Korean strawberries, which are distinctively sweet and delicious in taste, to the world.
In 2014, BK Greenhouses was the first to commercially grow strawberries in the MiddleEast. The strawberries were grown at the BK Hydroponic Center in Bahrain, which were proudly shared with local communities. With the guidance of Dr. Jeong, whose life's work has been dedicated to strawberry research in Korea, BK Greenhouses is developing new environment control technologies to enable more hot climate countries to grow, instead of import,their strawberries. BK Greenhouses looks forward to when Korean strawberries can be enjoyed all over the world.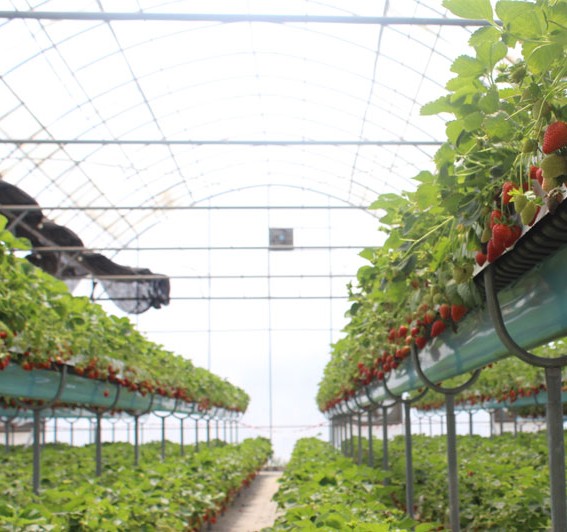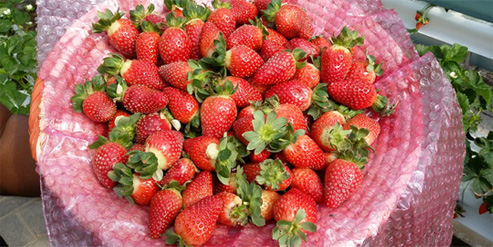 Due to the innovative feature that closes the circulation of water, BK Conveyor Culture enables wheat, or barely growth with almost zero waste. Significant savings are made in water, fertilizer, energy and running costs. Additionally, BK Conveyor Culture takes up very little space, provides dry working conditions, and requires only a few people to operate, reducing labor cost. BK Conveyor Culture can also mass-produce young plants such as salad micro-greens.
BK Vertical Farm is a 'plant factory' concept, which produces uniform quality of goods all year around.
BK Vertical Farm is designed to maximise and uniformly distribute the natural light derived from the sea reflection. Energy consumption is also efficient using insulated building structures, infra-red repellant windows and minimum use of lamps. Fresh water is self supplied by sea water purification and a circulation system powered by windmill energy to consistently produce plants even during power failure.
Revolving floors and trays distribute the light evenly to produce uniform quality products. Non-soil growing technologies of BK systems are also applied for advanced feeding.
Sections of the BK Vertical Farm may be used as upmarket residential apartments. The high-rise city landmark may also attract tourists to the area